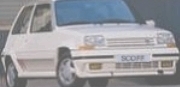 The Renault Turbo Owners Club is the largest Club on
the Internet for turbocharged Renaults!



You can apply online and become a Club member in just a few minutes by following the instructions on the join page.

Or, you can print the form and mail it to us by post with a cheque.
The Club is keen to build strong relationships with Companies who can benefit our members, secure discounts and benefits for them, and in return promote you.

Send us your details via our contacts section:


Contacts
>



Its simple and fast to join RTOC. Here's how you do it:

You need to follow the registration link below to first sign up to the Forum.

Note: If you have already registered on this forum then you need to login if you havn't done so already. Then click on
"Become full member" at the top right of your screen. You will be asked to pay for membership via
PayPal or credit/debit card. If you need to pay via cheque then please continue reading.

You will be asked a few basic questions when you register, you'll need to choose a login name and a password.

Please fill in all the questions, including the address section. We'll need this
in order to send you your membership pack and any news or correspondence in the future.
No unwanted non-RTOC mail will be sent to you, don't worry.

Once you've registered on the forum you will be able to post in the "General Chat" forum and "Classifieds" only.
You will not have access to the member-only sections just yet.

To sign up as a full member you need to click on the "become a full member" link
at the top right-hand side of your screen. Here you will be prompted to pay the joining fee, via PayPal or credit/debit card.

New membership costs £15 for the first year - renewals cost £15 per year there after.

Paying via PayPal means that you will have instant access to the forum. If you do not have
a credit or debit card or the use of a PayPal account then you will need to download this application form
or contact the membership secretary via email:

memberships (at) rtoc.org (excuse the way the email address is written, it helps prevent spam)

Click here to register