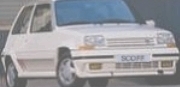 The Renault Turbo Owners Club is the largest Club on the Internet for turbocharged Renaults!
Incorporating the Renault 5 GT Turbo Owners Club, and catering for all turbo models from the 5 to the 25, the Club offers help and advice to members, organised events and member discounts at many of the leading suppliers, tuning and styling Companies. Forum powered by
vBulletin
Web design by
RTOC
Utilities

1. Cam Wizard - Compare actual camshaft lobe profiles for the common R5GTT camshafts and some un-common ones too.
The software gives you the choice of using the manufacturers lobe seperation angles or specifying your own.
Measurement data curtosey of Andrew Cooke, software by Scoff.

2. 1/4m leader board - Compare the clubs 1/4m results for different engine and tyre types.
You can choose to view results for road tyres only or C1J engines only.

3. Blogs Post Your Favorite Blogs

4. Arcade Play your favorite Arcade Classic games.